Asheville Housing Market Forecast: What You Can Expect
Those wanting to buy or sell their home shortly have likely seen the nationwide news of the current housing market. Buyer morale is low due to decreased inventory rates, high listing prices, and an influx of competition. However, we've noticed a recent shift in the market that provides benefits for both buyers and sellers in
Asheville, North Carolina
.
The housing market is ever-changing, so even though it may not be in your favor right now, it doesn't mean that things can't change over time. That's why it's so important to stay up-to-date on the latest housing market trends. Let's discuss what you can expect moving forward if you're trying to buy or sell a home in Asheville.
Home Buying In a Seller's Market
Asheville is a seller's market and has been for some time now. For buyers, this means the price tags on homes are higher, and they are selling quickly. In such a competitive market, it can be difficult to land an accepted offer on a home — as high demand and low inventory drive bidding wars. However, we are here to let you know that it can be done, especially with the help of a trusted
real estate agent
.
The benefits of having a local real estate agent by your side when buying a home are endless. After all, no one will know the most desired neighborhoods better than an agent who is constantly immersed in the market. If you are interested in hiring a real estate agent, consider working with a ​​Redbud Group REALTORS®.
Inventory and Price
Unfortunately for buyers, prices are slowly continuing to climb, and we don't see that stopping any time soon. Currently, the average sales price for a home in Asheville is around $495,000. In comparison to this time last year when prices averaged $340,000 — we have seen a 45 percent increase in median prices. With price tags for homes on the rise, you must
consult with a lender
as soon as you decide you want to buy a home. Additionally, you should make sure your finances are to make the pre-approval process a breeze.
As far as inventory goes, the current metrics show a decrease of 23 percent in homes for sale in Asheville. However, new listings in the metropolitan statistical area are up 87 percent to nearly 1,500 which is great news for homebuyers. As more homes are being put on the market you will hopefully run into less competition when putting in an offer on a home.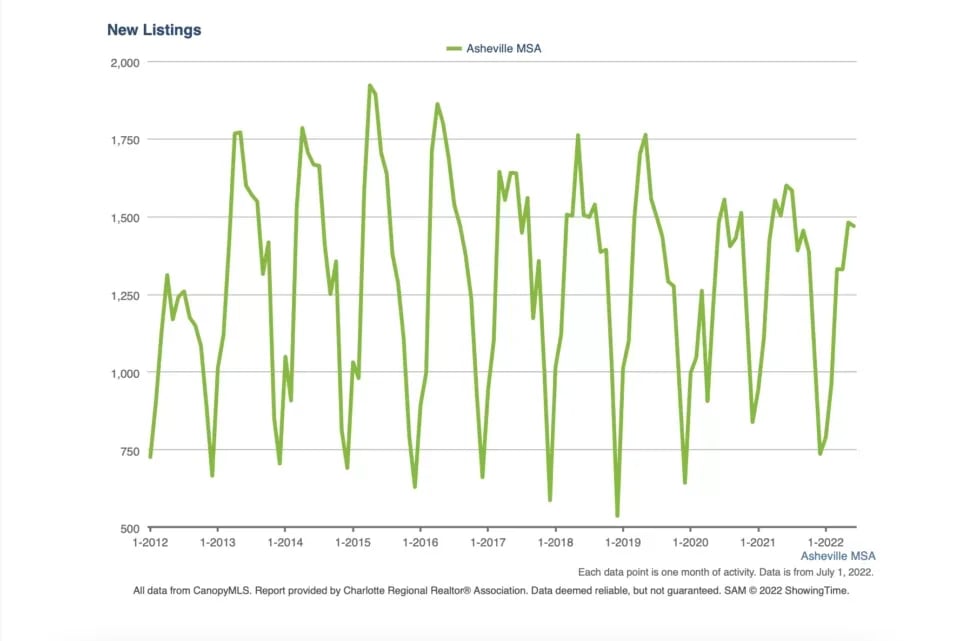 What Does This Mean For Home Sellers?
If you are thinking about selling your home, the time to do it is now. With selling prices continuing to climb, paired with decreased inventory rates, you'll get the most bang for your buck if you list right away. However, this won't be true forever, so act as quickly as possible, as inventory rates are already on the rise again.
If you're still not convinced that now is a great time to sell, you should know that the average percent of the original price, which is the ratio between the starting and selling price of a home, is nearly 99 percent. Meaning that most homes that are on the market are selling for more than they were originally listed for. So, if you're considering selling, now is the perfect time to list!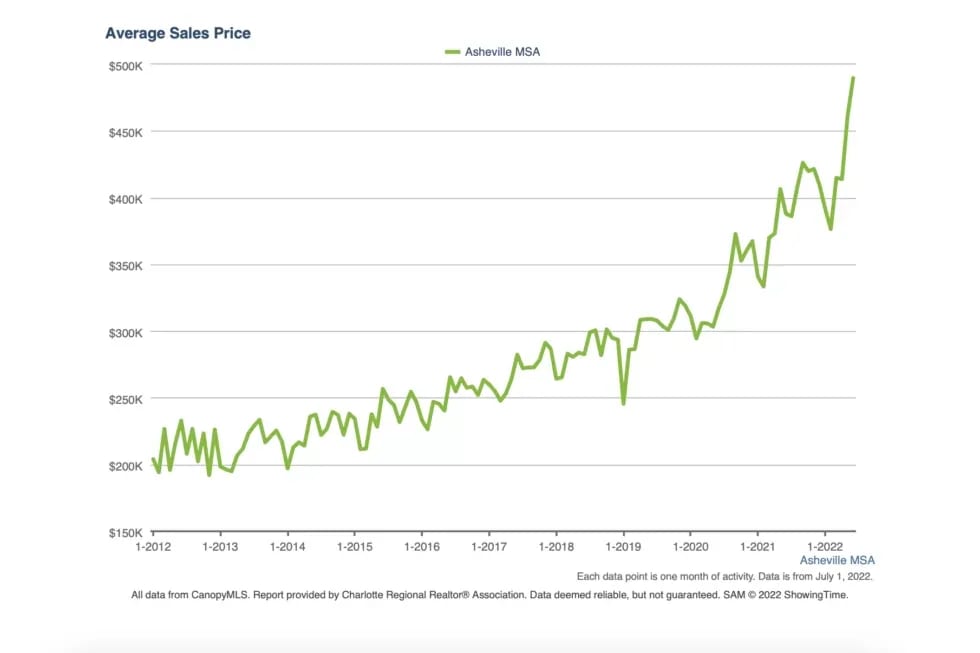 How Long Will It Take to Sell My Home?
In this market, you can expect to sell your home rather quickly. Between low inventory rates, and buyers eager to move to the Asheville area, there is plenty of competition when it comes to home buying.
To ensure that the selling process moves quickly, you should consider hiring a real estate agent. Your trusted agent will be able to help you
prepare
, stage, and market your home to your ideal buyer. That way, when you're ready to list, there will be people lining up to tour and put an offer in on your home.
Whether You're Buying or Selling, Contact The Redbud Group
There's no denying that navigating the real estate world can be a confusing venture. However, the best way that you can avoid the confusion is to hire an experienced real estate agent to guide you every step of the way. Here at The Redbud Group, our expert agents pride themselves on being able to provide you with the most stress-free buying or selling experience.
Contact us
to learn more about how one of our ​​Redbud Group REALTORS® can assist you on your real estate journey.